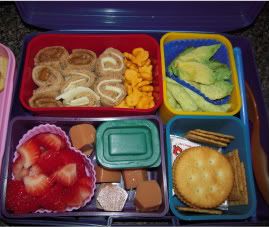 A bento meal packed in a "Laptop Lunchbox." (Marla B)
There's more to saving money on food than just getting good deals with coupons and sales. You also need to make sure you make the most of your purchases. One way is to pack meals at home to take with you when you're going to be away rather than stop at an expensive restaurant or an unhealthy fast-food chain.
Of course, you could just throw a basic sandwich into a brown bag, maybe add a 100-calorie pack of something or other, toss in an apple, and call it a day. But you also could explore packing a bento box with a meal that is balanced, nutritious, and aesthetically appealing! Bento-style meals are becoming more and more popular for both the budget-conscious and health-conscious consumer.
Make your lunch (or breakfast, or dinner) fun. Want to pack a sandwich? Use a cookie cutter to give it an interesting shape (and save the outside edges for a snack later). Packing some cheese? Stack small cubes with fruits or veggies on a toothpick! If you want to get fancier, search your local Asian market (such as Super H-Mart, which has locations around the Atlanta area) or Amazon.com for special shapers, cutters, and decorative containers.
But you don't need a special bento box (although they are cute) to pack; you can also use plasticware found at many major chains like Target; Bed, Bath and Beyond; and Walmart. Take your container of choice (such as one from the Fit and Fresh line, which includes containers with built-in ice packs) and fill it with several different foods in each compartment.
For more information about packing bento boxes, check out:
Looking to buy a bento-style container? Try Laptop Lunches (pictured above - save 10% at the website with coupon code "tiarasaves" - and also carried at many Atlanta-area Whole Foods Markets, as well as at Sevananda, and Rainbow Natural Foods), Kids Conserve, To-Goware, or Goodbyn to start. If you want a more traditional bento box, check out J-Box or take a trip to your local Asian market/grocery store or Super H-Mart.
Other articles you may be interested in: