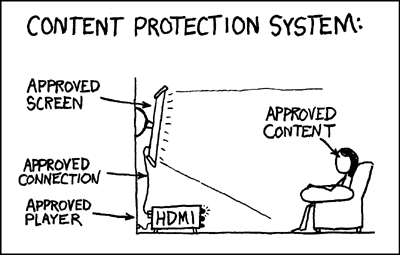 Comic from
xkcd
. Click to enlarge.
Didja hear the one about "the consent of the governed"?
Via Wendy McElroy, if there is a better way to say this I do not know what it might be. Robert Higgs:
Moreover, when we flesh out the idea of "consent of the governed" in realistic detail, the whole notion quickly becomes utterly preposterous. Just consider how it would work. A would-be ruler approaches you and offers a contract for your approval. Here, says he, is the deal.

I, the party of the first part ("the ruler"), promise:

(1) To stipulate how much of your money you will hand over to me, as well as how, when, and where the transfer will be made. You will have no effective say in the matter, aside from pleading for my mercy, and if you should fail to comply, my agents will punish you with fines, imprisonment, and (in the event of your persistent resistance) death.

(2) To make thousands upon thousands of rules for you to obey without question, again on pain of punishment by my agents. You will have no effective say in determining the content of these rules, which will be so numerous, complex, and in many cases beyond comprehension that no human being could conceivably know about more than a handful of them, much less their specific character, yet if you should fail to comply with any of them, I will feel free to punish you to the extent of a law made my me and my confederates.

(3) To provide for your use, on terms stipulated by me and my agents, so-called public goods and services. Although you may actually place some value on a few of these goods and services, most will have little or no value to you, and some you will find utterly abhorrent, and in no event will you as an individual have any effective say over the goods and services I provide, notwithstanding any economist's cock-and-bull story to the effect that you "demand" all this stuff and value it at whatever amount of money I choose to expend for its provision.

(4) In the event of a dispute between us, judges beholden to me for their appointment and salaries will decide how to settle the dispute. You can expect to lose in these settlements, if your case is heard at all.

In exchange for the foregoing government "benefits," you, the party of the second part ("the subject"), promise:

(5) To shut up, make no waves, obey all orders issued by the ruler and his agents, kowtow to them as if they were important, honorable people, and when they say "jump," ask only "how high?"

Such a deal! Can we really imagine that any sane person would consent to it?
Then, actually one-upping himself, Higgs quotes Pierre-Joseph Proudhon, who brings the above abstraction into concreteness:
To be GOVERNED is to be kept in sight, inspected, spied upon, directed, law-driven, numbered, enrolled, indoctrinated, preached at, controlled, estimated, valued, censured, commanded, by creatures who have neither the right, nor the wisdom, nor the virtue to do so. To be GOVERNED is to be at every operation, at every transaction, noted, registered, enrolled, taxed, stamped, measured, numbered, assessed, licensed, authorized, admonished, forbidden, reformed, corrected, punished. It is, under pretext of public utility, and in the name of the general interest, to be placed under contribution, trained, ransomed, exploited, monopolized, extorted, squeezed, mystified, robbed; then, at the slightest resistance, the first word of complaint, to be repressed, fined, despised, harassed, tracked, abused, clubbed, disarmed, choked, imprisoned, judged, condemned, shot, deported, sacrificed, sold, betrayed; and, to crown all, mocked, ridiculed, outraged, dishonored. That is government; that is its justice; that is its morality. (P.-J. Proudhon, General Idea of the Revolution in the Nineteenth Century, trans. John Beverley Robinson. London: Freedom Press, 1923, p. 294)
A-yup.
There's more there; be sure to show some love to Higgs' original source at The Beacon. I actually thought he was wrapped up when he threw in this zinger:
Addendum on "love it or leave it": Whenever I write along the foregoing lines, I always receive messages from Neanderthals who, imagining that I "hate America," demand that I get the hell out of this country and go back to wherever I came from. Such reactions evince not only bad manners, but a fundamental misunderstanding of my grievance.
This is just exactly what I was fumbling to say about Memorial Day; props to Higgs for nailing it. :-)
To the extent there is such a thing as the "consent of the governed", we should always bear in mind that it is only our voluntary consent that props it up. That is, if we withdraw our consent--if they hold a war and none of us show up--they just might start paying attention to us. And if enough of us withdraw consent, we might just find that we never really needed 'em in the first place.
What on earth would the little tyrants do then, with nobody to do their bidding? Now there's a fantasy worth entertaining.