On a recent episode of Bill Moyers' Journal covering the elusive corporate crime of big banks, Wall Street, wayward deregulation, corporate lobbyists freezing the democratic process... and how common taxpayers who paid for the bailout of this financial crisis are still suffering through it while the man takes the money and runs... that mournful mouthful was summed up succinctly by the seasoned journalist... "how long do we wait for Godot?" (before the citizenry demands change from its leaders).
As such, Bill Moyers summed up the abstract plot of Samuel Beckett's "tragicomedy in two acts" Waiting For Godot, originally staged at Theatre de Babylone in Paris during its 1952-1953 season. Dublin, Ireland native Beckett saw his play published as an Evergreen Book by Grove Press in New York during 1954, and it has since become iconic and an influence on Beat Generation literature.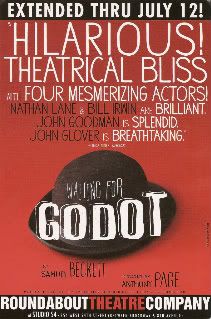 In the summer of 2009 the Roundabout Theatre Company of New York staged Waiting For Godot at a vintage 1927 venue known today as Studio 54 (yes, that one), its crumpled walls a perfect fit for an interpretation by Tony Award-winning director Anthony Page. Nathan Lane and Bill Irwin took on the primary roles of the ever-struggling Estragon and his hapless father-figure/friend Vladimir (both are indefinitely "lost"), while the bully-like pawn in the big man's game, Pozzo, was astutely played by John Goodman. A decidedly frantic performance of Pozzo's servant Lucky was delivered by John Glover.
It's hard to imgine the ultimate irony of this great work and its hosting landmark of decadance coming together anew to speak to the situation at hand in the here and now. Beckett dug into the sad results lack of empathy can bring to not only the reasonably privleged upper middle class (Pozzo) and the downtrodden (Estragon and Vladimir), but also those with promise unfulfilled due to negligence (Lucky). In throwing off the social responsibility heralded by the Civil Rights, Anti-War, Green and Women's movements of the '50s and '60s, the Studio 54 era of the 1970s helped spread unconsciousness amass, and we got a distinctly greedy lashing for the lack of continued effort. The question posed by seeing such a great production of Waiting For Godot today is how long.... how long... will the contemporary knuckle-drag go on, before we all start freezing to death?