Overall, the tropical Atlantic is somewhat quiet this morning, however, there is rumblings in the longer range forecast guidance that suggest there are two areas to really watch over the coming week to 10 days:
The first area that we will have to monitor is in the far southwestern Caribbean Sea. The GFS, Canadian, European and NOGAPS models all hint at the possibility of some sort of tropical development in the far southwestern Caribbean late this weekend into early next week. This development is quite plausible as there will be a strong upward pulse of the MJO (Madden Julian Oscillation) coming across right around that time. In my view, it appears that a tropical wave now located near 61-62 West longitude may either cause the development of or enhance an area of low pressure over the southwestern Caribbean this weekend or early next week.
There are a couple of possibilities, the first, posed by the GFS and NOGAPS models is for a tropical system to sit and spin over the southwestern Caribbean next week until a kicker, like a trough of low pressure picks it up. The second possibility, posed by the Canadian and European models is for an area of low pressure to slowly track northeast from the Caribbean into the western Atlantic Basin next week and get into an area of favorable conditions due to a trough split and an area of high pressure to the north over New England, which would cause this system to possibly develop and track westward towards the southeast US coast later next week.
Both ideas are very possible, in my view, especially the fact that I strongly believe that there will be a trough split near the US East Coast late this weekend into next week. This, in combination, with a large area of high pressure building to the north over the northeastern United States could mean trouble in the southwest Atlantic east of the Bahamas.
Right now, I am leaning towards the ideas posed by the European and Canadian models, in that, an area of low pressure may form in the southwestern Caribbean late this weekend into early next week and head northeast reaching an area in the southwest Atlantic just east of the Bahamas by the middle to later parts of next week. This tropical system may then be enhanced and strengthened by the favorable environment caused by the high pressure to the north and the trough split and it would need to be monitored closely as it possibly heads westward towards the US Southeast coast.
Needless to say, I will be monitoring things closely and will keep you all updated.
The next tropical weather discussion will be issued by 6 am EDT/5 am CDT Wednesday morning.
MJO Forecast: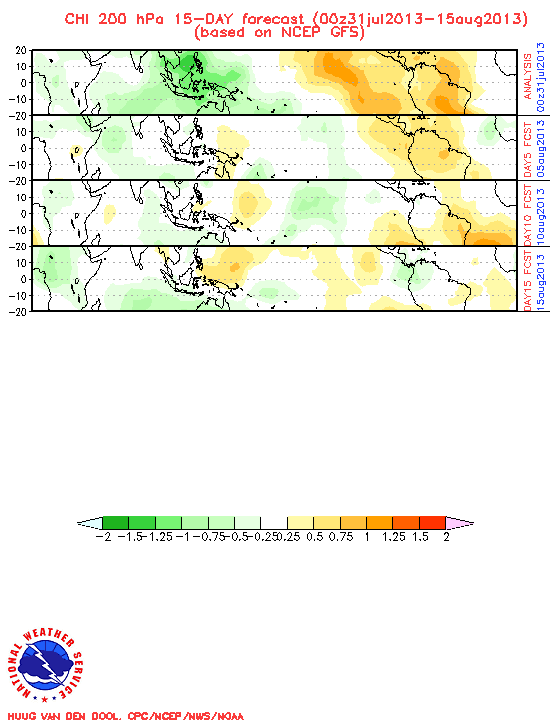 7 Day GFS Forecast:

6 Day NOGAPS Model Forecast:

8 Day European Model Forecast:

7 Day Canadian Model Forecast:

Entire Atlantic Basin Infrared Satellite Imagery: