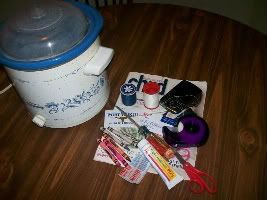 A few helpful items for
working mothers
Balancing work and family is a difficult feat. Here's a list of ten things that will help working mothers juggle the demands of both worlds with greater ease.
1. A good on-line calendar/organizer. Paper organizers can get damaged or lost. Electronic organizers dedicated only to work don't help with doctor's appointments and dance recitals, and they may not be available at home. Sites like Google and Yahoo offer online calendars that can be accessed anywhere, anytime.
2. A copy of the latest Fort Worth Child Magazine. This free magazine, available in schools, libraries and other public places, gives excellent advice about parenting and information about fun events for the entire family throughout the metroplex.
3. A library card. The local library offers picture books for bedtime stories, delicious new recipes for aspiring cooks on a tight schedule, the hottest DVDs for family movie night, and how-to books on resume writing and every other subject one can imagine. The Fort Worth Library website also offers databases that provide homework help and recommended websites for both home and business interests.
4. A slow cooker. At the end of a long day, it's very difficult to muster up the energy to plan and cook a meal on the fly. Prepare ingredients for dinner the night before, set them in the refrigerator overnight, and then set the cooker to run the next morning. Dinner will be ready by early evening.
5. A well-stocked first aid kit.
6. A box or drawer with art supplies, such as crayons, construction paper, scissors, playdough, paper plates, paper bags, glue sticks, and other odds and ends.
7. A sewing kit with extra buttons.
8. A basic home tool kit.
9. A subscription to a reliable roadside service, such as Triple A, because there's nothing worse than being stranded by the side of the road with a baby in the back seat.
10. A trusted babysitter. Close friends and family members are often ideal, but they may not always be available. Consider asking teachers and church leaders for recommendations, or investigate some of the professional babysitting services available in your area.