Scenery and Bed & Breakfast hospitality are hallmarks of summer travel - Bed & Breakfast Innkeepers release 2009 state directory featuring inns throughout Colorado ready for a scenic road trip
Grand Mesa is just one of many scenic areas that include B&Bs to enjoy along the way
Bed & Breakfast Innkeepers of Colorado has just released the 2009 State Bed & Breakfast Guide, complete with state map, full color photos of each member property, rates, a description and website address of each B&B and a handy grid of specific amenities. In addition, a scenic byways map with inn locations will help you plan your trip around the state of Colorado while experiencing some of the most beautiful byways in North America. Order your FREE Colorado State B&B Directory now.
Distinct Colorado B&Bs are ready to welcome you with a genuine smile, personalized service, clean and comfortable accommodations and a delicious homecooked breakfast. Savor special delights, prepared by loving innkeepers. Each of the Bed & Breakfast Innkeepers of Colorado members are "Inspected and Approved" for membership to meet a rigorous set of standards, so quality is a trademark of these properties. To learn more about the standards, what to expect at B&Bs and more, visit the Bed & Breakfast Innkeepers of Colorado website.
This month, try Eastholme in the Rockies' Amish Breakfast Casserole (see at end of page). It's the perfect accompaniment to your breakfast brunch and so delicious that you'll want to travel to one of our Bed & Breakfast Innkeepers of Colorado member B&Bs just to personally sample our breakfasts inn-style!
According to the State of Colorado's official Scenic Byways website, Colorado provides an amazing opportunity to take those back roads to see some of the most spectacular scenery available in the United States. And, summer is the best time to pack up the car and head on out. Travelers craving release from the momentum of mediocrity can truly transcend the world in the unusual beauty of the Grand Mesa. The 63-mile route rises through the narrow canyon of Plateau Creek to the cool evergreen forests of the mesa top, called Thunder Mountain by the Utes. Poised atop Land's End Overlook, you'll see the Grand Valley unfolding more than a mile below in splashes of golden rubble and vibrant foliage. Hike through dense alpine forests, ski spotless wintry slopes, or fish sparkling streams pouring into 300 lakes adjacent to the byway. Rise above the world and learn why the Grand Mesa Scenic and Historic Byway is called "the alpine oasis in the sapphire sky."
If you're frustrated by so-called "breathtaking vistas" that failed to strike and stun you, let the byway awe and astonish you. Follow the Lands End Road
along the rim of the world's largest flat top mountain and discover all 360-degrees of singular alpine skyline. High altitude and clear alpine air invite visitors to look westward to clarion views of the La Sal Mountains, 60 miles to the west in Utah. Sharp-eyed visitors frequently look southward to the peaks of the San Juan Mountains, 90 miles away. With grand views of the vibrant valley and the rustic mountain ranges gilding the horizon, the byway is waiting to leave you breathless and amazed.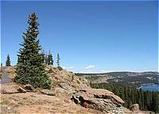 Every season has its own glory along the Grand Mesa Scenic and Historic Byway. Enjoy a roadside picnic with family or friends in cool spring fields alive with a full spectrum of wildflowers. Fall brings crimson splashes and splatters of saffron to the valleys and mountains, while the mild climate encourages a variety of wildlife to wander in the dense forests of the byway. Lose yourself in the nostalgia of summertime -- why not show your children the same kind of fishing, canoeing, hiking, and sport that you loved as a kid? Spend a week on the shores of the seven Grand Mesa Lakes, where flower-touched fields, waterside campgrounds, and shady trails await you. With over 400 trails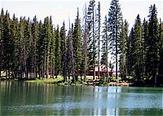 designed for snowmobiles, cross-country skiers, and snowboarders, the Grand Mesa is the winter wonderland of your dreams. Discover the grandeur of the Grand Mesa anytime of year, and you won't be disappointed.
Close by B&Bs include Lovett House B&B in Cedaredge, Bross Hotel in Paonia or French Country Inn and Smith Fork Ranch in Crawford. For details on Colorado and National Scenic Byways, visit www.ColoradoScenicByways.com or for more Colorado travel ideas, visit www.Colorado.com
---
Amish Breakfast Casserole
Compliments of Eastholme in the Rockies B&B Cascade, Colorado
Ingredients:
1 lb. sliced bacon, diced
1 med. Sweet onion
6 eggs, lightly beaten
4 c. frozen shredded hash brown potatoes
2 c. shredded mild cheddar cheese
1-1/2 c. small curd cottage cheese
1-1/4 c. shredded Swiss cheese
Directions: In large skillet, cook bacon and onion until bacon is crisp, drain. Mix together the remaining ingredients, stir in bacon mixture. Transfer to a greased 9 x 13 pan. Bake, uncovered at 350 degrees for 35-40 minutes or until eggs are set and bubbly. Let stand 10 minutes before serving. Yields: Serves 8 - 10
Click Here for additional Bed & Breakfast Innkeepers of Colorado Member Inn recipes and watch soon for the new edition of their new state B&B association cookbook.