zimbio.com
We all have the need to express ourselves. Sadly though, for many, flying a middle finger during rush hour is as clever as it gets.
As the population skyrockets and traditional forums for presenting artistic endeavors dwindle, one bastion of creativity remains untapped: your lovely noggin.
Exchange stodgy for street as you wind your deadweight mass of Rapunzel locks into an electro-clash twist, your ruthless experimentalism eliciting inaudible mouth gapes and excessive staring.
Or reign your flashy hair-drawn chariot into a farmer-chic bandana, your aesthetic adventurousness drawing cred if not copycats.
However you choose to paint your cranial masterpiece, remember that keeping tendrils covered and as close to your scalp as possible (as the aforementioned styles accomplish) shields them from direct sunlight, the primary culprit for fading color, brittle texture, dryness, frizz, and overall follicular suckiness.
With summer only a few clicks away, leaving strands out to bake in the sun actually has the same effect as tanning your visage, destroying cellular DNA through oxidation and light speeding the aging process. In hair speak, that means your locks will gray faster.
In fact, New York dermatologist Dr. Jeanette Graf recently told Allure that the side you part your hair on "turns gray sooner than the rest of your hair" because it gets the most sun wallop. Yikes.
And while most L.A. beauties are obsessive about applying sunscreen to their face and body facade, hair gets left naked to face a fiery yet silent annihilation.
So how to protect and restore crispy summer hair to locks more flowing than a soccer star's? By referencing this hairocopia, of course!
Maximize well-kempt hair that will karate chop whatever sun and heat-induced cinderblocks are lodged in your follicles, properly reducing your locks to lustrous putty. The results, as you will see, will squash the sun into submission and create a more whole sense of well-being.
Wear a Hat or a Bandana
Sorry, fans of Real Housewives-style orange tans, but your time in the sun is done.
Even though lying out in balmy weather feels nice (you know, before the hellish itching and peeling kick in), I think most gals don't want that warm, cuddly blanket sensation served up with a side of charred strands and melanoma.
Form a phalanx across your beauteous face and lustrous locks by topping off with a broad-brimmed hat like Scala Sun-Smart Travel Hat ($39, Travelsmith.com), which has a 5" rim to ravage the ravager.
If your hair is short like Carey Mulligan's, opt for a bandana. To look a little less like Grandma, hit up perennially young people-savvy stores like J.Crew and Urban Outfitters.
J.Crew's Mister Freedom bandana ($69, J.Crew) is made for dudes, but has a vintage seafaring print that'll be the yang to your nautical bikini's yin.
Note: When swimming, protect strands from chlorine and salt water with a bathing cap.
No matter how you rock it, tuck your hair underneath to avoid direct exposure to sunlight.
Pull Hair into Braids
Just like hanging out with Paris Hilton, the less time you spend partying with the sun, the fewer medical bills and recovery time you'll end up with.
Same thing goes for hair. Stay undefiled by pulling your fangled follicles up into a bun, braids, or a knot. Not only will you disguise brittle tumbleweed hair, but you'll also be exposing fewer strands to the sun's moisture-sapping clout.
Get Kristen Bell's low braided bun (pictured above) by pulling dry hair into a low, loose ponytail.
Let some strands fall onto your face for that cool, confident Bond girl insouciance of someone who knows what it takes to be admired for not looking like she wants to be admired.
Pull out a small section from the ponytail and braid. Twist the unbraided hair into a bun, wrap the plait around the bun, and set with bobby pins.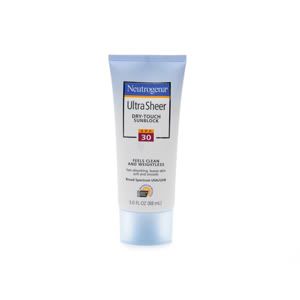 Spray Hair with Sunscreen
No, your head is not going to end up looking like an aggressive wedding cake.
To achieve ample SPF without the social stigma of resembling a baked good, bring out that crafty side you left behind in 2nd grade noodle collages and make your own hairblock!
Mix one teaspoon of SPF 25 or higher sunscreen with half a cup of water and dump into a spray bottle. Spritz the solution onto hair before you style, and, as with all sunscreen, reapply every few hours.
If you're not planning on clanking Cosmos with your girlfriends or entertaining male guests that night, turn your sunsafe amps up to 11 by applying sunscreen down your part.
It ain't pretty, but running a free radical sweep net over every single spot the sun hits will engage your scalp in more long-term beautifying benefits, stimulating depressed, depleted, and downright shy portions of your mane and eradicating existential cancers such as squamous cell carcinoma and Jersey Shore.
Try: Neutrogena Ultra-Sheer Dry Touch SPF 30 ($9.99, drugstore.com).
Comb Conditioner Through Hair Before Pooltime
Olive oil, safflower oil, sunflower oil—you may recognize these skillet greasers from the grocer's aisle, but these cooking essentials are also excellent hair marinades.
Comb these oils through your hair crop before dancing with the dolphins and make your archenemy unsuspectingly become your best amigo.
The heat from the sun drills the oils deep into your hair shaft, repairing hair before it acquires a crispy potato chip texture.
Ooze sophistication by emulating superlative European broads who dip their strands in jojoba oil, which is pricier but like milk and honey for your strands. It transmogrifies lackluster into lucent splendidly and is a common workhorse in hair spiffer-uppers.
To give your hair a dual giftment, deep condition once a week by setting tendrils with a deep conditioner, wrapping it in a shower cap or saran wrap, and leaving it on overnight to soak in down to the very last split cranny.
Cancel out blow drying and excessive styling for the best results.
Try: Pantene Pro-V 5-Minute Strengthening Mask ($4.49, drugstore.com).
Look For Sunscreen Products w/UV Protection
For hair more sparkling than a fresh-washed minivan owned by a well-kempt soccer parent, hoard any and all hair products infused with anti-UV militia.
It is, however, one of life's little ironies that most of these styling products are loaded with alcohol and formaldehyde, which crudely aggravate dry hair.
Avoid these if possible, and also relinquish peroxide and lemon juice, those biting wonders that turned your chestnut hair into spun gold highlights when you were a teen.
Of course, what you probably didn't know then is that these chemicals work their magic by prying open your hair shaft so your strands become so weak they can't even hold on to their own pigment. Which is not so fun.
Protect your follicular color by loading on the SPF, available in shampoos, conditioners, hairsprays, and even hair oils. Make sure your hair bodyguards have at least SPF 10-15 and you'll be good to glow.
Try: Bumble and Bumble Leave-In Conditioner ($18.99, folica.com).
Last Words
No matter the trend or phase of the moon, healthy, shiny hair is always worthy of the highest praise.
Stimulate your hair IQ by learning a few summer skin and hair tips from Kathy (xxsgtigressxx), then harvest your efforts with a hairstyle that sets off eye twinkles and turns heads.
***
Don't be a sun ditz! Find out just how well your sunscreen performs via the EPA's "Sunscreen: The Burning Facts" brochure, which tells you exactly which sunscreen ingredients fare the best with UVA and UVB rays, and how they survive over time. You don't just trust those hokey sunscreen ads for your info, do you?