This is the 5th article in my series on Caribbean destinations. Click here for the first article.
Aruba, like virtually every Caribbean island, is known for diving and other water sports. The waters that surround this tiny bit of land are crystal-clear to an amazing depth, a jewel-tone azure color, and filled with fascinating things to discover.
You would be remiss to come to Aruba and not take advantage of some type of water activity. Whether you dive, windsurf, sail, snorkel - even if you don't swim at all - you can have an incredible experience in Aruba's enchanting Caribbean waters.
There are 42 different dive sites on Aruba, most of them along the sheltered southwestern side of the island. There is a lot of sea life, from giant tube sponges and coral formations to tropical fish, lobster, eels, squid and sea turtles - our group was lucky to see several large sea turtles near our Red Sail catamaran.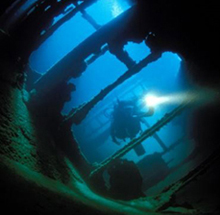 But what Aruba is really known for in the diving world, is being "King of the Shipwrecks." Aruba has been rated as one of the top places for wreck dives in the Caribbean, second only to Bermuda. Numerous ships have met their demise in these waters, and their sunken hulls are a favorite spot for divers and snorkelers. The best of these (and the one we visited) is the Antilla, a German freighter that was sunk by its own captain in 1945, rather than surrender it to the Dutch. It is the largest wreck in the Caribbean at 400 feet long, encrusted by barnacles and coral. Other shipwrecks to explore include the WWII Pedernales, and ships that were intentionally sunk for diving such as the Jane Sea, Debbie II and Star Gerren.
Even if you don't dive or snorkel, or swim at all, you are bound to enjoy a catamaran or sailing excursion to these spots. The water is so clear, that I could easily see many of the fish, reefs and other sea life from the deck of the boat. And of course, the views of the island and Caribbean Sea are beautiful.
Other top water sports in Aruba are windsurfing and kitesurfing. The latter is the newest extreme water sport, whereby the board is harnessed to a huge kite. The constant 15-knot trade winds of Aruba mean that these go incredibly fast - I was amazed and a little frightened by the speed at which they skimmed the water. This wind, along with the variety of flat-water locations and challenging wave conditions, have made Aruba one of the most popular spots on earth for windsurfers and kitesurfers.