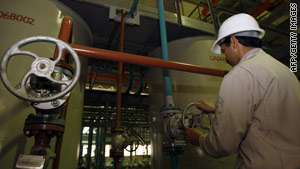 Iran claims the US abducted Amiri to gain information on Tehran's nuclear program. Photo: AFP/Getty
After being missing for more than a year, Shahram Amiri, an Iranian nuclear scientist has reportedly appeared at the Pakistan embassy in the United States.
Tehran has vehemently claimed that Mr. Amiri was kidnapped by the CIA during a pilgrimage to Mecca in Saudi Arabia, a little over a year ago. These allegations began earlier this month in light of the release of three Youtube videos purportedly of Mr Amiri.
US officials have rejected the Iranian accusations and claim no responsibility in Amiri's disappearance.
The first video released said he had been kidnapped, the second that he was living freely in Arizona, and the third that he had escaped from his captors.
The third and last video, which was broadcast by Iranian state TV on June 29th, a man claiming to be the missing scientist says: "I, Shahram Amiri, am a national of the Islamic Republic of Iran and a few minutes ago I succeeded in escaping US security agents in Virginia.
"Presently, I am producing this video in a safe place. I could be rearrested at any time."
The man in the video also dismisses the second recording, in which it was claimed that the scientist was living freely in the US, as "a complete fabrication".
"I am not free here and I am not permitted to contact my family. If something happens and I do not return home alive, the US government will be responsible."
Iranian media say Mr Amiri worked as a researcher at a university in Tehran, but some reports say he worked for the country's atomic energy organization and had in-depth knowledge of its controversial nuclear program.
In March, ABC News reported that Mr. Amiri had defected to the US and was providing the CIA with invaluable information on the Iranian nuclear program. However, these reports now appear to have been false.
At the end of the last video, Mr. Amiri claims that, "I was not prepared to betray my country under any kind of threats or bribery by the US government."
Surely such an unfolding of developments will lead to a diplomatic stand-off between the US and Iran, who already suffer tense relations. Many analysts assert that Mr Amiri's sudden appearance is a major embarrassment for the American spy agencies.
Abdul Basit, a spokesmen for Pakistan's Foreign Office, reported Amiri's appearance at the embassy and claims that in Pakistan, the head of Iran's interest section, Dr Mostafa Rahmani, is planning to repatriate the scientist back to his country.
US authorities cannot enter Iran's diplomatic premises, however they could prevent Mr Amiri leaving US soil.