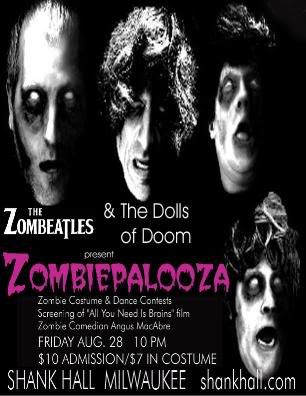 The
Zombiepalooza
poster can be found all over Madison.
On Friday, Aug. 28th at 10pm, zombies will rise from their undground depths to join famed zombie pop-rock group The Zombeatles and the burlesque stylings of The Dolls of Doom for their world premiere event Zombiepalooza to be held at Shank Hall in Milwaukee.
For only $10 ($7 if you come dressed in costume), you can join the members of the Fab Gore (Jaw Nlennon, Pall IcKartney, Gorge Harryson, and Dingo Scarr) and The Dolls of Doom (Lola Marinet, Tila Von Twirl, Coo D'twat, Ray Gunn, and Bazooka Joe) in their performances, along with an appearance by Angus MacAbre, "Scotland's Funniest Zombie Comedian", and a screening of the critically-acclaimed mockumentary, "The Zombeatles: All You Need is Brains".
Also included in the roster of activities are zombie costume and dance contests for those who decide to dress up and play the part of a walking corpse "getting down" to the musical creations of the Zombeatles.
Described as a "post-apocalyptic, postmodern vaudeville entertainment extravaganza" by the band's PR voice and Wisconsin Public Radio producer, Doug Gordon, the event is sure to be a fan favorite and won't be without its fair share of brains and mangled body parts to gnaw on.
For more info:
Read
Rue Morgue
's feature story about "All You Need is Brains", watch the
trailer
for the film, or visit the Shank Hall
website
for directions to the venue.