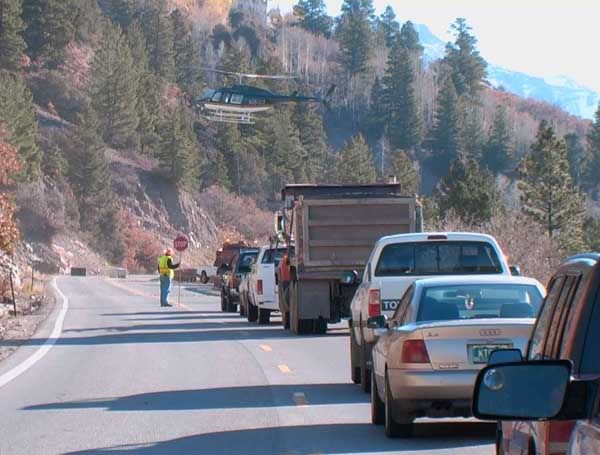 Traffic en route to Telluride. Photo by Ben Williams
San Miguel County drives an average of nearly 79 million miles each year.
This small, rural county in southwestern Colorado, is literally teeming with vehicles. The total average annual vehicle mileage for the county (nearly 79 million) would stretch around the equator more than 3,000 times!
That's quite a trip.
The majority of the miles are driven by Class 2 and 3 vehicles, cars and small trucks – 47% and 40% respectively. The preferred vehicle? SUVs, light trucks and pick ups.
The report, completed last month, is part of an ongoing greenhouse gas inventory for the County. Average Annual Vehicle Mileage (AAVM) is necessary to gain a picture of transport emissions, a large part of any region's carbon footprint.
Vehicles are broken into vehicle classes, and emissions applied to average annual mileage per class from data recorded by the Department of Transportation.
To conduct the study, Getting Climate Change Handled, LLC, (GCCH), consulted Colorado Department of Transportation (CDOT) survey data from 2005 through 2008. Using CDOT seasonal and daily cofactors, numbers used to extrapolate data, AAVM was compiled for each of 13 vehicle classes along designated survey routes. These classes were then conflated with the vehicle classes used by the EPA and ICLEI.
This is just an estimated figure – it's impossible to know exactly mileage driven within a county over any timeframe. There's just too many cars to count. However, these numbers are repeatable, any future study will need to be conducted in the same way. Statistically, considering available data, without conducting numerous surveys independently, this is as close as it gets.
While emissions are being calculated as part of the final report, expected mid-May yet still to be released, using 20 mpg as a base average for all vehicle classes (a probable high estimate considering heavy truck traffic and the prevalence of SUVs, and excluding diesel emissions), the annual average vehicular emissions constitute a whopping 354,255.23 Metric Tons of CO2 equivalent (MtCO2e) per year. That's a volume exceeding 6 billion cubic-feet!
In 2008, emissions from all the electricity used in the towns of Telluride and Mountain Village (towns which collectively use more than half of the electricity provided to the region by San Miguel Power Association) totaled a mere 81,478 MtCO2e in comparison. That's still a lot (big houses, ski lifts, a power-hungry gondola all increase per capita KWh usage above the national average) but it represents 0.001% of the emissions from vehicles (using the 20 mpg estimate).
And San Miguel County is a rural county, a small population with open roads. Granted, many commuters drive close to 70 miles a day to Telluride, the economic power house of the region. But these are highway miles, not city miles. Considering the vehicular emissions from a county like LA County, then, is staggering.
To meet the Climate Action Plan 2020 goal will require reducing AAVM by more than 15 million miles. That's a lot of vehicles, and presents a startling need for increased public transportation.
Buying that hybrid might be a good idea.