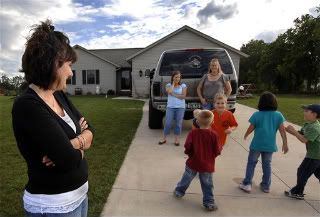 Lisa Snyder with family and friends AP/Katy Batdorff
The headline was jaw-dropping in its seeming insanity. Middleville woman threatened with fines...for what? Abusive or inappropriate public behavior? Selling illicit substances? Child endangerment? Jaywalking? No. Lisa Snyder of Middleville, Michigan, was arrested for babysitting several children in the neighborhood before school. The school bus stop is directly in front of her house. She would invite them into her house for 15 - 40 minutes until the bus arrived. She did not ask for any money . She was just a neighbor, doing a favor for her friends who were working mothers. However, when the police arrived, they informed her that she was under arrest for operating a day care without a license, In order to comply with the law, she would need to take CPR training and have her house inspected, among other things.
Apparently, somebody thought it would have been more responsible to make the children stand outside without supervision. According to Snyder, when she told officials that she wanted to invite the children in when it was raining, they replied, "tell the parents to buy an umbrella."
Now she faces up to $1000 in fines and up to 90 days in jail for her good deeds. The bright side of the story is that government officials in Michigan seem to realize how absurd the situation is. State Representative Brian Calley of Portland is introducing a new bill that will allow neighbors to babysit each other's children without legal repercussions, and Governor Jennifer Granhold ordered Human Services Director Ismael Ahmed to change the law.
The whole incident is a bit chilling to working mothers everywhere. Each of us struggles daily with the task of finding adaquate care for our children while meeting the expectations of our employers. Many of the options are unattractive. Can I afford to spend this much? Will my children be safe and happy here? Are they old enough to stand at that bus stop alone? For how long? What happens in bad weather? How comforting must it have been for Snyder's friends to know that she was there to watch over their children, and how shocking to learn that it got her in trouble. As I stated in my first article for the Examiner, one of the ten things every working mother needs is a trusted babysitter. If that is not allowed, how much harder does the balance between work and family become?
Fortunately, the laws that brought Lisa Snyder such grief are specific to Michigan and such a case is not likely to happen here. A recent article in the Fort Worth Star-Telegram highlighted a recent practice that can go a long way toward providing child care help in these tough times - babysitting coops, which have even been featured on the Today Show. There are several collaborative arrangements here in the metroplex , including the Babysitter Exchange. Working mothers everywhere can benefit greatly from the help of trusted friends and neighbors - and there shouldn't be any law against that.