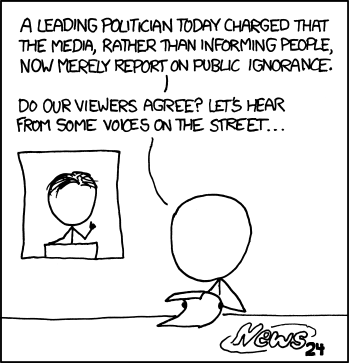 Comic from
xkcd
. Click to enlarge.
A commenter today asked, for reasons undisclosed:
Nothing on McChrystal today?
Hadn't planned on it. And I can't imagine I could have handled it any better than either Silber:
As the murderous destructiveness of the Death State increases in every direction, nauseating charades of this kind will no doubt also occur with increasing frequency. I have absolutely no interest whatsoever in analyzing what so many others consider to be questions of significance: whether McChrystal violated the sacraments of the civilian-military command structure, what Obama had to do to maintain his authority as Commander-in-Chief, and so on. I would further suggest that, if you remain a civilized human being to any measurable degree, such questions should be of no concern to you. That these and similar issues of allegedly vital interest have dominated the national debate about McChrystal's "insubordination" tells you everything you need to know about how disgustingly uncivilized the United States government and its ancillary media culture are today.

Here, we will be astonishingly, unforgivably rude, and we will mention those issues which ought to be the focus of debate -- but again, this assumes that civilization and its foundational requirement, recognition of the sacred and irreplaceable value of a single human life, remain operative to a significant degree.

I don't give a glimmer of a shadow of the faintest damn about the outcome of incidents of this kind, because the major participants are all war criminals. I have been planning for some time an explanation of an especially unforgivable aspect of the entirely phony moral posturing engaged in by virtually all those who take part in our national discussion. The particular aspect to which I refer is this: almost no one takes the concepts of war crimes and war criminals seriously at all.

...

I obviously do not disagree with the proposition that Bush, Cheney and others committed abominable war crimes and crimes against humanity, and that they deserve the harshest of judgments and punishments. However, and it is a "however" of the most profound consequence, it is far, far more important to stop those who are committing war crimes and crimes against humanity today. Yes, we should punish those have committed unjustified murders in the past -- but how much more important and urgent is it to stop the known murderer who continues to commit his crimes in the present, especially when the murderer has made unmistakably clear that he will continue to commit similar crimes tomorrow and in the days to come?
or Floyd:
Some people seem to think that the question of which uniformed goober is in charge of the imperial bloodbath in Afghanistan is a vitally important issue, worthy of endless exegesis. It is not. It is a meaningless sideshow. What does matter, vitally, deeply, urgently, is the imperial bloodbath itself, and the fact that it will go on, and on, no matter what Barack Obama does or doesn't do about Stanley McChrystal.

...

McChrystal is in trouble for making disparaging remarks about fellow officers and civilian officials -- a military tradition that surely goes back to the armies of Hammurabi (and long before). Yet he faced no reprimand or remonstrance whatsoever for his admission, just a few months ago, that brazen war crimes were being carried out under his command:

"We have shot an amazing number of people, but to my knowledge, none has ever proven to be a threat," said Gen. Stanley A. McChrystal, who became the senior American and NATO commander in Afghanistan last year. His comments came during a recent videoconference to answer questions from troops in the field about civilian casualties.

...

But such acts are not to be punished -- because they are an accepted part of the process of the military domination of foreign lands. Wanton murder of the innocent? No problem, no scandal, a one-day story. "Insubordination" toward a few imperial satraps whose hands are steeped in blood? Shock, horror, wall-to-wall coverage.
Nope, that just about covers it--from Chicago to Cheyenne, and from Anchorage to Ankara. :-)