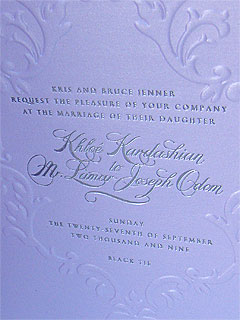 Images from People.com
Invitations to the wedding of Khloe Kardashian and Lamar Odom may have been made at the last minute, but the stunning invitations do not appear to be rushed by any means.
PEOPLE obtained some photos of the elegant white and silver invitatation with front bearing Kardashian's and Odom's first name initials. Inside, the invitation states that the wedding is a black tie affair, and will be hosted by Kris and Bruce Jenner. The back of the invitation states it that it was designed by Lehr & Black, who also created lavish wedding invitations for Jessica Simpson, Gwen Stefani, and Eva Longoria Parker.