AP PHOTO/Charles Sykes
Are your beauty products silently KILLING YOU!?
Probably not, but chances are those gnarly chemicals aren't doing you or our big blue planet any favors as they get flushed down the drain (and then filtered into—cheers!—your own drinking water).
Thanks to Earth Day, the ever insistent Al Gore and the blatant, un-touped bald spots on Earth's polar ice caps, we've come to realize that Mama Earth has slowly ushered herself into middle age.
And she's having one helluva crisis.
Though not quite with bucket list in her non-hands, the real Miss World has officially crossed the Rubicon, fighting like a champ but putting up with some seriously misbehaved children. And soon the bloom will be entirely off the rose unless we revive her with good fertilizer.
Most environmentally minded beauty brands are following suit, whittling luxury with a conscience.
With newly developed tree-hugging lipsticks, blushes and even brushes clogging the cloud, what determines beauty today comes from more meaningful sources than Cosmo.
And because these products are all-natural, you don't have to take a face-cation from beatitude to stay on good terms with our dear gravity magnet.
Whether you wish to undo years of playing the massive MMORPG known as Real Life or to dispel the sophomoric ad hominems of stress and other facial fallacies that dull one's glow, eco-groovy beauty fare is there to save you from superficial savagery.
So in a world where weather, careers, and NCAA championship games rarely go according to plan, it's best to take control where you can: with makeup.
This Earth Day, put the prettifying remote control in your hands with the following sustainable grab bag of crunchy granola hippie delights, and watch as you save the Insert-depleting-natural-resource-here, one gussied up ray of facial sunshine at a time.
Josie Maran Natural Wonder Powders Palette ($35, Sephora)
Supermodels know beauty like a blackboard knows chalk. So who better than eco-hottie Josie Maran to indulge both our vicarious nature and obsession with things green-y and blingy?
Josie Maran Natural Wonder Powders palette sports eyeshadows and blushes that are made of paraben and sulfate-free mica, a bronzer basted with skin-softening argan oil, and a case handcrafted from teeny monarch butterflies.
Prep for the premiere of your glittering onscreen debut as Woman Reading Newspaper #5 with starstruck Trance, a beige gold, and Think, a copper brown. The two hues mix to produce a love child of bashful sassiness, perfect for that after-party meeting with your producer to "finalize the details" of your promotion to Woman Reading Newspaper #3.
Or use Cher's fishy character from Mermaids as inspiration, swiping cool-toned Hope, a bright iridescent purple-blue, in your crease and Desire, an iridescent teal, as a liner on your lower lash line for orbs that sparkle and captivate like the sea.
Whomever you choose to channel, the universally flattering and healthy colors in this petite palette will catapult you into a realm of cosmic sexiness, all while sending fragrances, petrochemicals, phthalates and cancer-causing triclosan packing.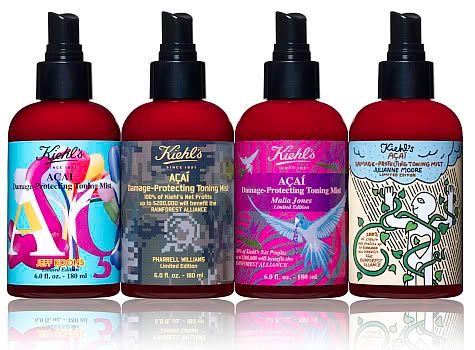 Kiehl's Ltd. Edition Açaí Damage-Protecting Toning Mist ($26, Kiehl's)
Tropical rainforests are biomes of great diversity, rife with monkeys and mushrooms, toucans and tigers, lumberjacks and government corporations.
Boot out the one that doesn't belong in nature's organic oasis by dropping a few bucks for Kiehl's Ltd. Edition Açaí Damage-Protecting Toning Mist. 100% of proceeds go to the Rainforest Alliance, which slaps evildoers upside the head, forcing them to practice forestry methods that conserve biodiversity.
Tastemakers Pharrell Williams, Julianne Moore, Jeff Koons and Malia Jones have literally lent their hands to the earth muffin cause, each picking up a (Photoshop) paintbrush to compose a unique label for the mist.
So spritz that sucker on and sigh in beauteous content, knowing that somewhere in a forest in El Salvador, there's a hand of bananas popping corks and blowing noisemakers in your name.
Açaí sheathes the skin zone responsible for conveying emotions under an impenetrable and seamlessly camouflaged Fortress of Solitude, unrecognizable on skin to the naked eye yet on constant steely vigilance against free radical villains and youth bandits.
Burt's Bees Rosewater Glycerin Toner ($12, Burtsbees.com)
Before battle, Samurai would exfoliate their bodies in steamy baths of rose petals so their enemies would be caught off guard by the sweet flower aroma just long enough for a well-directed katana to swiftly enter their loins.
Embrace the ways of the poetic warrior with Burt's Bees Rosewater Glycerin Toner, which reenergizes the sparkling soulshine lingering within all of us.
While beauty and love can't be bottled, their timeless symbol—roses—certainly can. So inch forward into Cupid's affections by scenting your complexion with distilled rose water, whose aromatic delicacy will see to it that your lovelorn present become a fancied future.
Cornflower and aloe extract calm inflammation, and witch hazel contains tannin, a superhero antioxidant that turns mature cheeks into babies' bottoms.
A word of caution though: witch hazel water harbors 15% ethanol alcohol, so only approach if you have ridonkulously resilient skin.
And as with all Burt's Bees products, Rosewater Glycerin Toner is made with sustainability, animal rights and fair trade in mind. One word: LOVE.
Tarte Green Siren Cheek Stain ($30, Tartecosmetics.com)
Poison Ivy was the original green siren, her lips teeming with plant toxins that allowed her to kill with a kiss (though not the first, she was also a maneater of the most viscious sort). But you don't have to have vines growing out of your hoo-ha or hatch sinister ploys to destroy the city with suffocating spores to prove yourself environmentally friendly.
Do eco without the terrorism with Tarte Green Siren Cheek Stain, a golden apricot hue that swathes cheeks with a naturally warm glow that makes it look as if you've just spent the entire day outdoors guerilla gardening, the sun's colors wrapped around you like an Afghan rug woven from Caribbean rays.
The product's t5 superfruit complex, a blend of goji berry, acerola, açaí, maracuja and pomegranate, evens skin tone and fights UV damage.
Nix chances of joining the Bat Boy's rogue's gallery by snapping one up for yourself—every sale benefits Sambazon's Sustainable Açaí Project (SAP), which preserves the Amazon rainforest through conservation, improved living conditions and community education programs.
Because despite being more than a little obsessive about botany and plants, Little Miss Crazy did have one thing to teach us: the earth needs us.
Tweezerman Go Green Mini Slant Tweezer ($12, Shopsagebeauty.com)
Tweezerman Go Green Mini Slant Tweezer splits up unibrows with the finest of cosmetic handjitsu so you can get de-Ernied with minimal pain.
This little firecracker is compact for your convenience, slipping stealthily into travel cases and even into your glove compartment for touch-ups as you wait for your boyfriend to get done shopping already.
Made of 100% post-consumer recycled paper and printed with soy ink, the verdant bodymop eradicator supports a similarly green cause, the National Arbor Day Foundation.
$1 of each sale gets transmitted to the organization, which then uses the dough to plant a new tree.
So every uninvited hair's death means a new treeling will be born? A definitive application for environmentalism's circle of life—Reduce, Reuse, Recycle—if I ever heard one.
Last Words
Over the past few years green fever has spread like a viral wedding dance video.
Team Jacob/Edward? Pssh, join the cool kids and hop on board Team Green! View the slideshow below for more eco-goodies that'll get you massaged and exfoliated and lotioned and micro-dermed, au naturel.
***
Living in L.A. doesn't exactly put one in touch with nature. While Linda has gone green with much of her beauty routine, she admittedly doesn't have much of a green thumb. She believes that like ink cartridges and MP3 players, plants come implanted--sorry for the pun--with a microchip that tells them when to expire. Water, schmater. It's clearly a conspiracy.