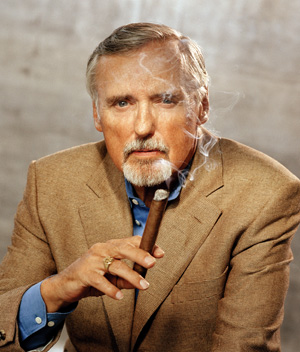 Dennis Hopper, American actor
Dennis Hopper, legendary actor, filmmaker, and artist, may be losing his battle with cancer. Hopper announced his diagnosis of prostate cancer to the public this October, after being rushed to a NYC hospital with flu-like symptoms. The actor cancelled all travel plans to pursue experimental treatment at the University of Southern California, but was transferred to Cedars-Sinai Medical Center in Los Angeles last month when his condition deteriorated. Recent news reports say Hopper's cancer has now spread to his bones and become incurable. Hopper was first diagnosed with prostate cancer in 2002. He is now 73 years old.
Hopper's cinematic career began in the 1950s and has gone strong into the 21st century. Some of the films that have sewn Dennis Hopper into the fabric of American culture include Rebel Without a Cause, Easy Rider, Apocalypse Now, Blue Velvet, True Romance, and Speed. The actor's personal life includes 5 marriages, fatherhood, alcoholism, drug use, arrests, and some controversy. In 2001, he was quoted as saying, "I should have been dead ten times over. I've thought about that a lot. I believe in miracles. It's an absolute miracle that I'm still around."
For more information on prostate cancer: Visit the Massachusetts Prostate Cancer Coalition website.