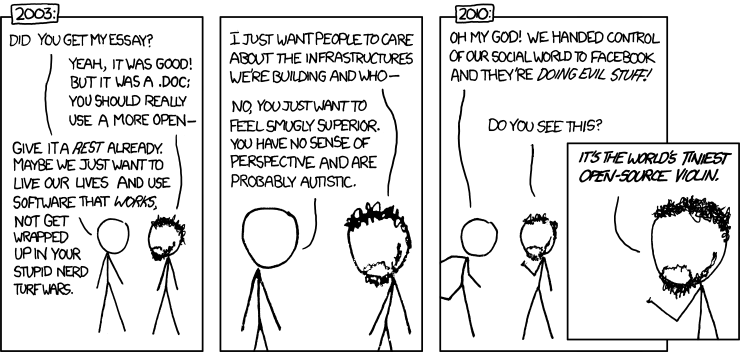 Comic from
xkcd
. Click to enlarge.
(To my amusement, this same comic is
referenced
at WendyMcElroy.com
under totally different circumstances, but it works just as well for this topic!)
I had not heard of John Stagliano before yesterday, but he got my attention because Wendy McElroy was virtually shouting about him:
Why is the Libertarian Movement Not Defending John Stagliano?

I will extend the benefit of the doubt and assume the silence is because most libertarians do not know who John Stagliano is or the injustice that confronts him. After all, I lost track of John for several years due to a shift in the focus of my writing from sexual rights, and I am embarrassed to admit that I only recently learned of his persecution by the government. I have lost time to make up.
Yeah, that's close to shouting for McElroy. (We love 'er that way.)
At any rate, it appears that Stagliano is being persecuted simply for being one of them 'smut peddlers', which alone should be reason to come to his assistance...but also it appears that he is rather notably principled:
John Stagliano is one of America's major adult porn producers and directors. He is also a consistent, principled libertarian who, in the past, has made significant contributions both to Reason and Cato Institute. He has also supported individual libertarians in their projects and work. I met him through the research I did on pornography that led to writing the book "XXX: A Woman's Right to Pornography." I found him to be a soft-spoken, generous and principled man who treated women as equals and with respect. Within the porn industry itself, he is well-known as a zealot for freedom of speech and he was awarded 2009 Man of the Year by the Free Speech Coalition -- a trade association of the adult entertainment industry in the United States that opposes obscenity laws.

John is currently facing a maximum 32 years in jail and $7 million in fines for making fetish porn films that include only adults. Two years ago, John was indicted and has since gone through the sort of legal hell that only those who are targeted as examples by the government can understand. (And, yes, people are still going to jail for producing and distributing adult pornography; consider the case of Max Hardcore, aka prisoner no. 44902-112, currently at FCI La Tuna, Texas.) John has established the website, DefendOurPorn.org as a venue on which to post articles, news, and updates regarding his court proceedings. Alas, it does not appear to have been updated recently.

For decades, John has encouraged libertarians, defended their rights, contributed heavily to institutions and periodicals... In the years of our association,I never heard him utter a vicious word against anyone nor an unlibertarian sentiment. Indeed, his defense website features a quote that is typical of John:

America became great because the founders knew that the power of the majority had to be strictly limited to protect this wonderful concept of "rights." They knew that the rights of a minority, and especially the most important "minority," the individual, needed to be protected against the will of the majority. And the most important right that they sought to protect, the FIRST Amendment to the Constitution, is the right to free speech. That is the right to express oneself in whatever way one wished, as long as that person was not "forcing" himself or his ideas on anyone else.
Surely it couldn't be that his persecution has as much to do with that, as with the "offensiveness" of his product...naw, things like that don't happen here. When we go after "obscenity", it's all about cleanin' up the smut...
Note that McElroy has already started to make good on her comment about making up for lost time. It's probably safe to say she's serious about this.
For me, I've got no delusions about a wide readership, but will do what I can to get the word out. Hey, control freaks: I'm defendin' a smut-peddler, because it's the right thing to do. Even if John Stagliano was a seedy character and in every respect personally distasteful, I'd defend him on the basis of his being peaceable (which nobody seems to contest) and be proud of it. Done it before, will surely have to do it again. (Either liberty is for everyone, or it is for no one. The historical record is not ambiguous on that point. To wit: they are now coming for the smut-peddlers.)
In this case, though, it certainly appears that Stagliano is a bit more than that; his business wholly aside, he sure seems to get it (just for starters, an explicit endorsement from Wendy McElroy is pretty powerful) and a great number of us might easily see ourselves in the same boat for the same reasons.
Sheesh, the way things are going, we're pretty likely to get the chance.