Collegecandy.com
In sixth grade, recess was our runway. None of this Chanel crap! When I went to grade school, wearing six-inch wedges like the Spice Girls and smelling like cherry air freshener, Dippity-do and Mall said one thing about a girl: class. And let's not forget the lip gloss! There was no better way to tell strangers that you went to second base than roll-on Bonne Bell in Tropical Punch.
But fast forward to today, and it seems that the best place we're able to unwind and show off our fly accoutrements is during five-minute chats by the water cooler with our coworkers.
We're fashionable; we're established; but, my dear readers, where did all the fun go?
Apparently it got compartmentalized into one singular event, boxed up neatly into a week in March or April.
A short trip out of our charmed Hollywood fishbowl and a popular celebrity Jeopardy category, Spring Break offers a chance for both college students and nine-to-fivers to go from stiff-limbed to malleable as warm wax after relaxing poolside, beachside, and anything-but-desk-side.
It's recess adult-style, where we get to unashamedly flaunt our yoga-sculpted posteriors (what woman in L.A. isn't running around with a sticky mat strapped to her back, POM juice from Whole Foods in hand?) and new Missoni bikinis. The break also encourages mature, cultured pastimes by which the sophistication level is inversely proportional to how well you remember the event the next morning.
Masterpiece Theater in your hotel room? Yawn-o-rama. Cute midget attendant whose chips and dip-holding sombrero seduces you into a night of blurry Spanish pick-up lines, booze and copious butt slaping? Giggity.
Between piña coladas and desperately working on your tan after being mistaken for Nanook of the North on several occasions during the pasty winter, you've probably got little time to worry about beauty products. However, relying on the generic bar soaps and hair conditioners provided by your Hilton aren't going to cut it unless you're going for withered skin and lifeless hair.
But packing beauty goodies is difficult these days, with the TSA limiting everything from how many ounces of liquid you're allowed to carry to quantity of clothing.
So to make your work-free days work-free, I've created a list of seven travel-sized Spring Break essentials that won't make your wallet shed a tear.
Read through for pampering products that'll melt you into a joyous puddle of blobby tranquility, sparking fits of jealousy within Jell-O and other pudding-like substances.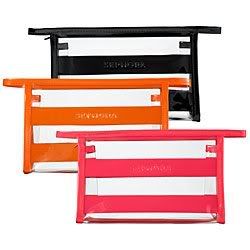 Clear Travel Tote
In the olden days, we would be pressed by security to humiliatingly empty out our makeup bags on the airport conveyer belt, the entire fabric of our feminine mystique laid bare for all to see.
Leave those dark days behind by storing your lady goods in a clear tote so security can see and easily access your belongings. Though transparent, a clear tote preserves the modesty of naked makeup bag contents by not necessitating that you take out every little tampon and melted lipstick tube for passersby to gawk at.
Try: Sephora Collection Signature Clear Stripe Bag Collection in Pink Stripe ($7, Sephora).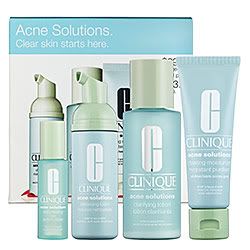 Basic Skincare Kit
For most beauty mavens, using bar soap on their faces is like skiing without snow or Shauna Sand without Lucite heels—it just doesn't happen. Unfortunately, hotels provide you with a small chunk of soap at best for all your cleansing needs.
Make sure your face doesn't go on strike from malnourishment by purchasing a skin care kit that suits your skin type. Clinique's Acne Solutions Clear Skin Starts Here. ($29.50, Sephora) comes with cute-as-a-button sizes of Cleansing Foam, Clarifying Lotion, Clearing Moisturizer, and Spot Healing Gel.
For acne sufferers, the products will put your delicate facial skin in a svelte silk robe and a handsome recliner, right where it should be during your week of R&R.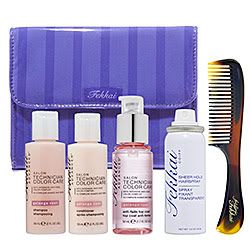 Basic Hair Kit
It's one thing to have beachy waves and another to have chlorinated green tumbleweed. Aim for the former by moisturizing your noggin's organic growth with a travel-sized hair kit.
Choose a set that's tailored to your hair type—for girls with colored hair who struggle with dryness and breakage year-round as it is, Frederic Fekkai's Travel Faves – Technician Color Care ($43, Sephora) slide on your thirsty strands like butter, wear like a bowl of fresh cream.
What's great about the kit is that it includes everything you need to make it look like you give a damn, even if you don't.
The Sheer Hold Hairspray enhances smoothocity, and the Anti-Fade Top Coat acts like your hair's broad-shouldered security guard, strong-arming free radicals that try to destroy its most beauteous DNA.
SPF
Spring Breakers flock to tropical locales with lots of sun, but amidst outdoor concerts and boozy revelry, it's easy to forget to lather up. But just because you're stationed on an island paradise 1,000 miles away from home and feel a keen sense of godly vigor—probably elicited from your fourth gin and tonic—does not mean you're impenetrable to the ravages of El Sol.
Save face (and arms, and legs, and body) by remembering two things: a lotion-based sunscreen that'll go a long way, and a sunscreen spray to refresh protection quickly when you're out on the beach.
When shopping for skin shields, look for formulas that contain Meroxyl, Helioplex and Active Photobarrier Complex, which stabilize sunscreen for hours and offer extra UVA protection.
Usually I recommend using SPF 30 or above, but because you'll be frolicking beachside for a week straight, amp up the sun juice with a broad-spectrum sunblock with at least SPF 45, which blocks 98% of rays.
Keep a stick sunscreen handy in your bag for touch-ups (which, FYI, should occur ever two hours and immediately after taking a dip in the pool).
Try: Neutrogena Ultimate Sport Sunblock Lotion SPF 55 ($11.99, CVS) and Neutrogena Sunblock Spray SPF 70 ($11.99, CVS).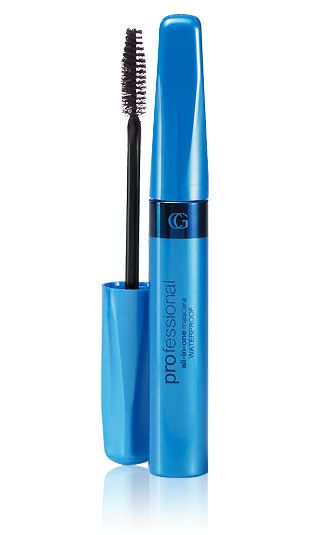 Waterproof Mascara
Like otters and Sports Illustrated models, waterproof mascara was born to tread water. Though drier in formulation and clumpier than regular mascara, some can cling to lashes for an entire day without migrating down your cheek.
While high humidity pulverizes most mascaras into primordial black goo instantly, waterproof ones are hardcore gangstas that stand up to heat, sun, sweat, and water.
If, coincidentally, I were stuck on a desert island somewhere, the one beauty tool I'd bring would be Covergirl Professional All In One Waterproof Mascara in Very Black ($3.99, Target), which has survived impromptu pool trips (I was thrown in), torrid late night parties and 16-hour days.
On-The-Go Wipes
Making sandcastles is fun and shows you take on the wheel of fortune with brain and brawn, attractive traits sure to catch the eye of that Matthew MacConaughey lookalike as he jogs by unsurprisingly shirtless.
But shaping a ball of sand and then grabbing a bite to eat of your turkey and swiss wrap with said sand still on hand is cause for displeasure, for both shirtless faux Matthew and soon-to-be-vomiting you.
Prep for nosh time without having to walk a mile to the nearest washroom by bringing sanitary hand wipes. They're also handy for wiping ice cream streaks off your face, an unavoidable result of staring at the dreamy cabana boy in a haze of wriggly-fingered stupor.
Try: Pjur Medclean Fleece Anti-bacterial Wipes, 25 Pack ($24.99, Walgreens).
Bug Repellent
An insect repellent is a complicated little bug all its own—because of its strong chemical scent, it not only repels parasites, but people, too.
Stop tagging yourself as the black—though unbitten—sheep at the pool by swiping on La Fresh All Natural Biodegradable Insect Repellant Wipes 48 Ct ($3.99, LaFreshGroup.com), which lack harmful chemicals that put you at risk of growing a third arm and also don't reek of toxic waste.
The small packets fit snuggly into tote bags and relieve you from dragging around a gigantic aquarium of bottled spray.
Last Words
Now that your vacation bag is humming in tune, make the most of your youthful, beachy glow by watching MissChevious's guide to creating a dewy spring makeup look. You'll be so resplendent with good-lookingness in the mirror that you will be unable to resist looking at and eventually hitting on yourself.
***
Did you know Spring Break began with the ancient Greeks? When winter lessened its chill and thoughts turned to rejuvenation and rebirth, the elders of Athens noticed the young folk were particularly antsy and frolicsome. The solution? Socrates proposed a wild rite to welcome spring and to let young people "vent those ingrained urges." The Greeks always did know how to have fun.