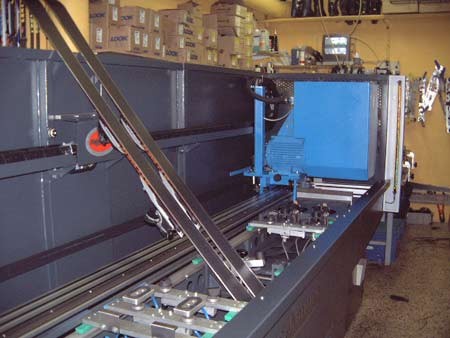 Don't try this at home, get your gear done by a pro.
With June around the corner and no snow left on the slopes, it is time to trade in the skis and boots for a bathing suit and beach towel. Taking care of your skis now, in the proper way, will help get you ready for next season as well as extend the life of your equipment. It'll take you a couple of hours to get most of this done and in the end save you a bundle of money, so get your pens ready and take notes.
The first thing you want to do is make sure that your skis, poles, boots and any clothes are cleaned and completely dry. Especially the metal parts of your equipment, think about zippers on your jacket and pants, clasps on your boots, and the bindings and edges of your ski/board. Once that is taken care of you can begin to look at storage for your your gear and equipment. You want to find a colder dry place in your apartment or home, this can be quite the challenge since humidity in Boston during the summer can be excessive. You want to avoid this humidity because of the metal parts of your equipment, allowing any moisture to form on these parts can lead to rust over time. The best way to avoid this with your skis is to go and get them tuned at an area ski shop (Try Country Ski and Sport in Quincy or any of the Ski Market locations in the Boston area). Not only will the tune up protect your skis from the summer elements but you will have beat the rush at the ski shops once the fall rolls around and you can just sit on that first storm not having to wonder if your skis will be ready by first snowfall. If you are lazy or just want to save some cash for your summer expense account you can find a candle and coat your edges in wax for the summer. After that bind the skis tightly together with velcro straps and put them in a ski bag if you have one. The wax will form a water proof barrier on your edges and by "tightly" binding the skis together you limit the amount of moisture that can get onto the base of the ski as well. Also keeping the skis tightly bound will make it easier for you to move them should the need arise unexpectedly.
Your boots won't need as much attention as your skis, do not use the candle wax trick on your bindings, you will never get the wax off and will be forced to constantly explain why you smell like "pumpkin spice". If you have a boot bag use that for storage, otherwise a couple of plastic shopping bags over them will prevent spiders and other bugs from using your boots as a summer residence.
Finally your clothing and gear should be cleaned and dried, if you haven't already done this it will probably make your room or wherever you store your ski clothes a million times better. So once the clothes are clean and dry you can put them right into your ski bag if you have one, if not then a plastic grocery store bag will do just as well. I usually hang my jacket and ski pants in the closet, double checking the pockets as I do so.
Taking advantage of these quick and easy tips will make the beginning of next season that much easier. Just remember to think of a cool and dry spot and protect against moisture and your equipment will be ready to go at the first sign of snow.