Max Azria's Collection Sketch // WWD
Max Azria had one goal to achieve in his BCBGMAXAZRIA Spring/Summer 2010 collection: "[To find] a balance between street and art, sculptural draping and downtown luxury... laced together with an effortless thread." Known for his body-hugging line, Hervé Léger, and more contemporary line, BCBG, Azria departs from his popular skin-hugging silhouettes for something a little more ethereal and structural.
The first glimpse at BCBGMAXAZRIA's SS10 collection will leave you with a smile on your face, as bright-but-moderated colors beam through sheer black fabric in the form of interesting (and flattering) shapes. The models were sent down the runway nearly barefaced, highlighting each garment's ability to stand on its own.
IAzria's sketched dress on the runway
(AP Photo/Richard Drew)
Of particular note, the patterns used in many of the dresses are reminiscent of organic events, such as volcanic expulsion, fissures, and spring flora. Usually combined with a solid neutral such as black or white, the patterns managed to "pop" the dress, visually, while not taking away from the experimental cut and shape of many of the garments.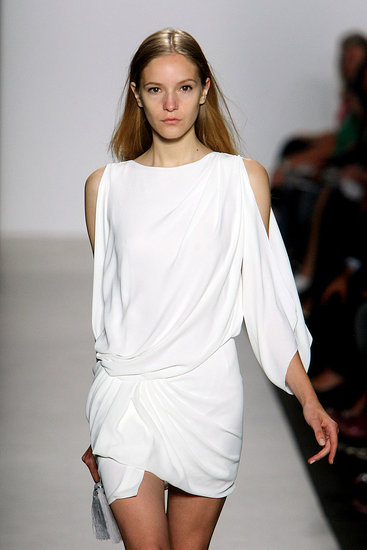 Insert photo caption or credit here
The most personally striking of the bunch, however, were the solid jersey dresses, which received the majority of the aforementioned draping and architectural work. From short dresses to long, keeping it simple and direct was a smart goal for the S/S collection.
Flowing jersey fabrics achieve Azria's goal of luxury, while the ability to just throw on a pair of shoes, a dress, and fly out the door confirms the effortless thread. The colors are versatile and, with the exception of a psychadelic fishtail gown, the shapes are easy enough to incorporate into a wardrobe, but still feel incredibly unique.