When I met AmyD, aka Amy Dalrymple, at her shop at 211 E. Arcadia, she had just dropped off her intern after running errands all day. She was an adorable wisp of pink in a hand altered tee, funky socks, pink high top converse and one of her signature skirts. Immediately she was light and fun and as apt to drop the f-bomb as I am. As she helped me maneuver my daughter and her unwieldy stroller into the tiny storefront she chatted about her kids, one of whom was starting high school that day. She also checked her mail and pulled items for a client she was meeting later. The epitome of a multi-tasking mommy.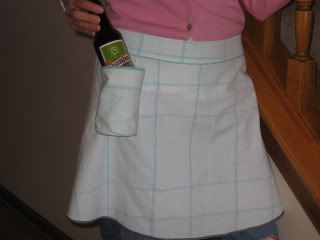 Amy is a local Columbus designer that is gaining some national recognition right now online and in print. She is most known for her circle skirts and aprons. The aprons are her own patterns and have features like beer pockets. Her skirts are made from both new and re-purposed fabrics (like t-shirts). Her skirts are universally flattering with knee to mid-calf lengths and elastic waistbands. Other items like her Ohio coffee sleeves, felt pins, capes, t-shirt jackets and dresses made from tees and used fabrics are all comfy, cute and beautifully made.
Her items can be found online at www.madebyamyd.com , on etsy at http://www.etsy.com/shop.php?user_id=1145 and at Wholly Craft (3171 N. High Street). If you go to her shop and it appears to be empty, don't freak out, she is moving. She was offered a spot at the Kickstart at 913 N. High Street and will be there as of September 5th. Amy is very excited about the move. The location is better, she loves the staff and it is open more then she is able to open her own personal shop. She will also be appearing at the Craftin' Outlaws Craft Fair, October 17th.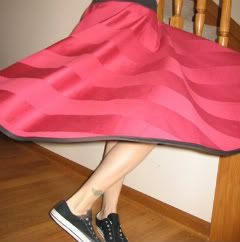 I asked her about her start and it began as a child growing up around her mother and grandmother, whom she describes as MacGyver crafters. She learned to sew in 8th grade home ec. and despite getting a D in the class, it ignited a lifelong love of making the things floating around in her head a reality. Made by Amy D was officially born when friend Shannon (of the Lucky Ladle) offered her a bunch of vintage estate sale jewelry. Amy made her a thank-you apron and that turned into a $100 apron order as well as new business.
For my more in depth interview with Amy (and more photos) check out www.surlygoestoshows.blogspot.com .