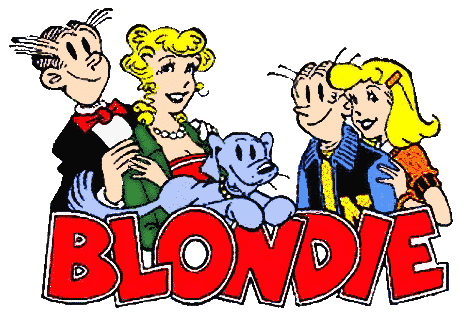 The logo for "Blondie"
If you've ever browsed through the comics section of The Burlington Free Press, The St. Albans Messanger, or whatever newspaper you might read, chances are you've read Blondie at least once. And, if you've read Blondie there's a good chance you may have one very good question about it: "why is the strip named after the wife when the husband is the main character?"
Created in 1930 by Chic Young, Blondie originally centered on the character of the same name. Blondie Boopadoop was a carefree flapper girl who hung around in dance halls. However, in 1933, Blondie married her boyfriend Dagwood Bumstead and the rest is history.
As the strip itself has been around for so long, most people don't remember a time when Dagwood had an extended family and didn't work for the J.C. Dithers Construction Company. However, at the time he married Blondie, Dagwood was the son of rich industrialist, but was disowned for marrying a flapper girl.
The strip itself is an amusing look into the lives of the Bumstead family: Dagwood and Blondie, their son Alexander, their daugher Cookie and their dog Daisy. The strip follows a typical "gag-a-day" format (that is, there isn't a continuing story like in, say, Buckles), however there are running gags, most of them involving Dagwood. These jokes involve things such as Dagwood's love of food (especially impossibly tall sandwiches which have spawned real-life impersonators known as "Dagwood Sandwiches"), Dagwood goofing off at work, the "late-for-work" gag and the "singing in the bathtub" gag. Another amusing running gag is based on the strange requests Blondie gets from her clients as a caterer.
Aside from the humor, another great reason to love Blondie is that Blondie and Dagwood are an adorable look at a perfect American couple. How many other couples do you know who have been madly in love for almost 75 years? Despite Dagwood's foolish antics and Blondie's propensity for over-shopping, the two characters are head-over heels in love and Dagwood provides hope to all those loveable losers out there who long to have a strong, beautiful wife.
Blondie has become an American staple in its time appearing in newspapers. It was adapted into 28 low-budget films between 1938 and 1950, two short-lived tv series (both only ran one season), a radio show, two animated specials and even a chain of eateries known as Dagwood's Sandwich Shoppes.
So the next time you pick up your copy of your local paper, flip to the comic section and see what the Bumstead family is up to that day. You won't be sorry.