democraticunderground.com
With its endless varieties of shape and color, its ability to blend in with jungle foliage, and its endangered state when around humans, the Easter egg is the Cape Dwarf Chameleon of our frolicsome springtime world.
While alternative Easter egg species have become increasingly popular in our downcast economy over the years—including pastel ovum stuffed with loose change, IOUs, and front-lawn free-range carrot-ranching kits—there is nothing quite like biting the head off an animal-shaped marshmallow, empty plastic shells affrayed on the floor.
In fact, the Easter egg and ensuing candy high of a spritely afternoon spent egg-hunting and egg-napping from your frenemy's haul while she's passed out from a food coma are ritualistic components of a tradition that began in the Pennsylvania Dutch Country in the 1700s.
On Easter eve, little boys and girls would craft nests out of bonnets and caps, in hopes that the Easter Bunny would sneak into their houses and make their hats runeth pleasantly over with brightly festooned eggs (which, sadly, contained little to no Cadbury Creme at the time).
But blind to anyone's knowledge, the cute, fluffy ball-o-fur possessed a darker nature that fed itself with mischievous schadenfreude.
After depositing the eggs, he would malevolently hide the "nests" away, either under the grassy cover of the garden or somewhere secluded in the house.
When the children searched in vain for the sprinkling of goodies, a half-grin would pop up under his whiskers, and he would laugh deep into the night upon his throne of carrots and timothy hay, twirling his villainous mustache.
This year, celebrate the holiday without experiencing the Easter Bunny's cathedral of pain by treating yourself to chocolaty morsels, decorative finger keratin paint and birdy bath bombs that will imbue you and your abode with lingering wafts of eau de Easter.
The following springtime-inspired beautifying agents allow you to indulge in the foodie holiday without the calories, which your own bun will greatly appreciate and thank you for by slipping your derriere into the skinniest of your skinny jeans, Jaws of Life not required.
Lush Hippy Chick Bomb ($4.95, Lush)
Though its body is nothing more than grapefruit oil and citric acid, and its feathery coat a lush helping of Yellow No. 5, Hippy Chick refuses to be acknowledged as anything but a plump springtime babe.
Give the engineered bird some lovin' by bringing one back to your own nest to commemorate Easter in the most religious, sacrosanct way possible: by rubbing it against your naked body.
Made exclusively for a one-way journey to your bathtub without promise of a return trip, Lush Hippy Chick bomb sticks to its mission of softening and scenting your skin like a true soldier, even to the sudsy end.
Like real chicks, Hippy Chick is irresistibly cute, but has the added feature of being rife with bergamot oil, which helps melt stress by relieving anxiety and refreshing the senses.
Grapefruit oil acts as an astringent and antiseptic, excommunicating undesired skin conditions like acne and oily skin, and frankincense oil calms skin eruptions.
Best of all, Hippy Chick is entirely vegan, so consuming the meltaway theropod won't weigh heavily on your conscience afterwards.
Tarte Flower Child Natural Eyeshadow Palette ($44, Sephora)
In spring, the weather is lighter, the atmosphere is friendlier, the fields are more awash with color, and beauty palettes are majestically crowned with cheerier hues.
Tarte goes green with its Flower Child Natural Eyeshadow Palette in two ways: saturating the kit with flowery spring hues like "Pink Peony" and "Buttercup," and championing the environment with a refillable, reusable case and a chemical-free formula that slings crunchy granola hippie goodness.
Send off "your pleasure is my business" vibes at your advertising pitch presentation with low-key, muted "Ecru Hibiscus" on your brow bone followed by a sizzling splash of smoky "Gray Periwinkle" on your lids. Or get out of a speeding ticket pronto by flashing your best Blue Steel at the officer, complements of shimmering "Delphinium Blue."
The psychedelic purple palette comes equipped with pint-sized versions of Brush With Greatness Double-Ended Eyeshadow Brush, Double-Ended Eyeliner in Matte Brown and Jade, and Natural Eye Primer with Firmitol.
So buy the kit and leave come-hither rather than carbon footprints wherever your Choos choose to tread this Sunday.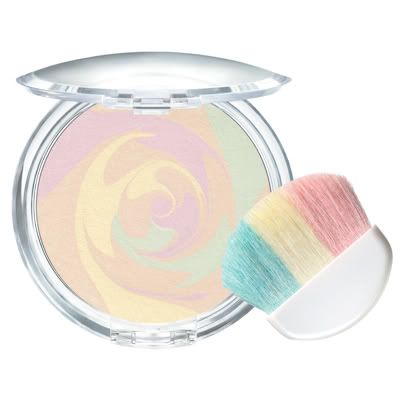 Physicians Formula Mineral Wear Talc-Free Mineral Correcting Powder ($13.95, CVS)
If the idea of enveloping your mug in pastels piques your enthusiasm as much as that time Great Aunt Betsey made you a flouncy pink pinafore with matching head bow to wear to Easter Mass, then get your pastel fix in a more surreptitious—and dignified—manner by dousing your face with Physicians Formula Mineral Correcting Powder.
Relive your tender, sugar-coated beginnings with the powder's tricolor doodlings—pink to brighten, green to rule out redness and yellow to add warmth.
Stick this compact in your pocket for instant sunshine that, upon application, may cause impromptu groove-fests and hallucinations of butterflies and rainbows when dark days dare add misfortune to your step.
The Appalachian multi-tasker will also have your bank account wearing rose-colored glasses, busting out moves as a color corrector, a light matte primer and a finishing powder over makeup.
Paraben-free, hypoallergenic, fragrance-free, non-comedogenic, and talc-free, you'd have to be Powder to be irritated by any of the ingredients in this, erm, powder.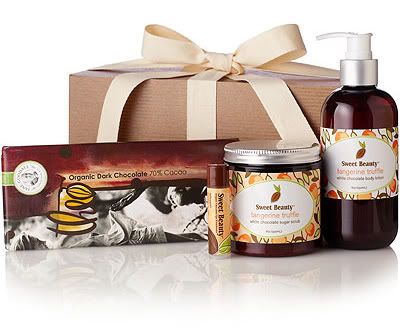 Chocolate Lovers' Gift Box ($49.99, Spiritbeautylounge.com)
The Aztecs originally punished their enemies by pouring hot chocolate down their throats, until the warriors realized their foes actually like it and promptly switched to molten gold.
If your waistline can't take the chocolaty hit this year, fool your sensory cilia by pampering your pout and body with Spirit Beauty Lounge's exclusive Chocolate Lovers' Gift Box.
Each box contains a sugar scrub, body lotion and lip balm, as well as a nice chunk of Theo Jane Goodall—yes, that Jane Goodall—organic 70% dark chocolate bar, because sometimes only the real thing will do.
Picky chocolateers and fudgeistadors will rejoice in the ability to choose their own poison—for those who have felt love's bittersweet knife-in-the-gut, sugar scrub in Love Potion: Dark Chocolate Roses will wash away the gloomy past and buff your skin into a smoothness that will slay dirty exes with one glance.
Meanwhile, gals that like to turn mating and relating into a chessboard skewed in their favor should try lip balm in Taste, Lite Chocolate, an inviting and sexy blend of fluffy milk chocolate that is the foodstuff equivalent of a delicious slit in an otherwise becoming dress, revealing merely a peak of what male dreams may come.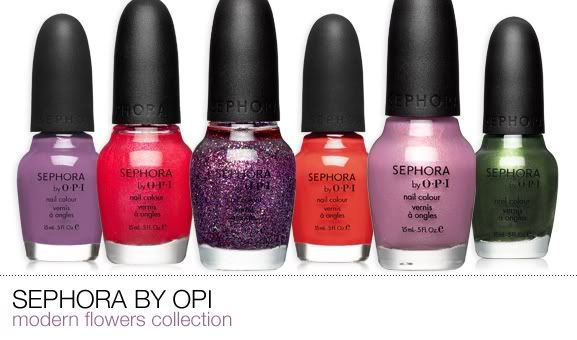 Sephora by OPI Modern Flowers Collection ($9, Sephora)
Stop letting the petals of an innocent daisy make the final verdict on whether he loves you or loves you not.
Grab romantic fortune by the balls by painting your digits with one of six shades from the Sephora by OPI Modern Flowers Collection, each inspired by a different flower.
Glittering your finger helmets and relinquishing your saturnine sulking will snag you the guy whether you read it in the blossoms or not because you'll be one hot, well-maintained aesthetic warrior.
Saucy shades come in Leaf Him at the Altar, a metallic vine green, It's Bouquet with Me, a sheer violet with silver and holographic glitter, Iris I was Thinner, a medium iris purple, Handpicked for Me, a light pink lilac with silver shimmer, Go with the Flow-er, a bright tulip pink with hot pink shimmer, and Cover me in petals, a tigerlily red orange.
Last Words
Even though Martha Stewart and the seasonal candy aisles at Target will tell you otherwise, Easter doesn't have to mean pastels.
To look appropriate for the occasion without resembling a human Easter egg, watch Lauren Luke pull together gingery springtime eye maquillage that's more Cosmo than Meyer lemon.
***
Though bunnies are lauded, cuddled, and eaten (when in chocolate/candy form) on Easter, the rest of the year they are neglected, spilling far out of the confines of animal shelters and frequently put down. Commemorate the true spirit of Easter--and a classic Easter symbol--by considering adopting a rabbit from the Bunny Bunch, a non-profit in Chino, CA (about 20 miles from the heart of L.A.) that rescues rabbits and other small animals from high-kill shelters.
Just remember that you must be able to provide the bun with a good home--no purchasing of bunnehs as a B-Day or Easter gift for your 2-year-old cousin who likes to chew on his toys. In fact, buns that are bought solely as Easter gifts live less than one year (compared to 10 if well cared for).